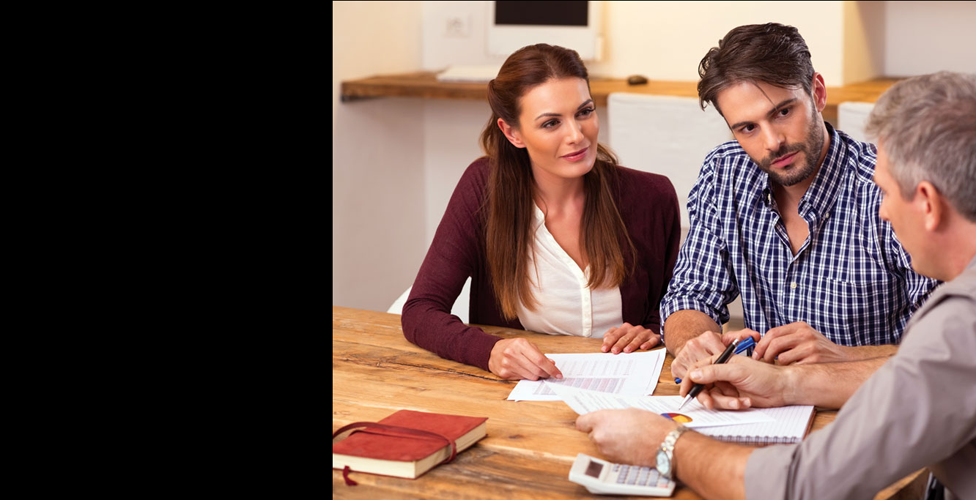 Sustainable Banking
Sustainable Banking
We are committed to building a sustainable bank. By this, we mean a financially sound bank that serves all our customers, and contributes strongly to our economy, society, and our communities. Balancing our business decisions by taking account of the interests of our many stakeholders is important in building a good business based on trust, and these pages outline the steps we are taking to make that happen.
While our operating environment is dynamic and challenging, we remain steadfast in our ambition to be the number one bank for customer service, trust and advocacy. Taken together with our Values and Yes Check, this ambition guides and underpins all our decisions and actions as we build a simpler, low-risk, customer-centric bank. We will earn trust by putting customers first, making Ulster Bank a great place to work, supporting our communities and managing our environmental impacts.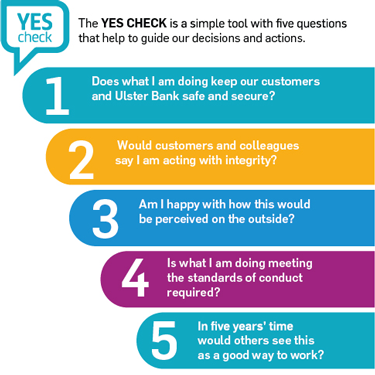 Listening to our stakeholders
Understanding what matters to our stakeholders is vital to ensure we adapt to our changing environment. We gain valuable insights from ongoing engagement with our stakeholders – customers and colleagues, advocacy groups, government, media and investors. In addition we regularly invite stakeholders to meet with, and challenge our senior leaders, as well as hosting events of interest to customers, community groups and businesses. These sessions offer insights that shape our future policies, influence priorities and inform decision making.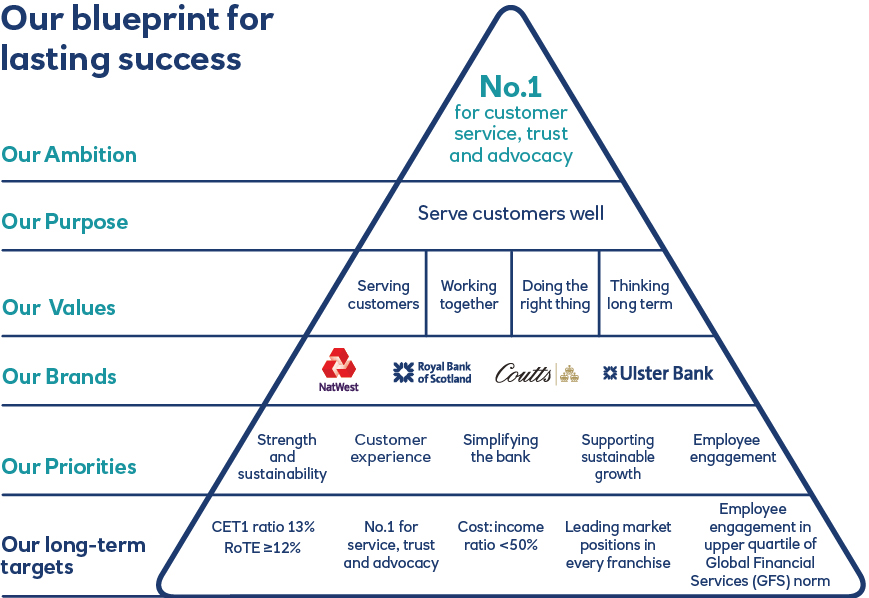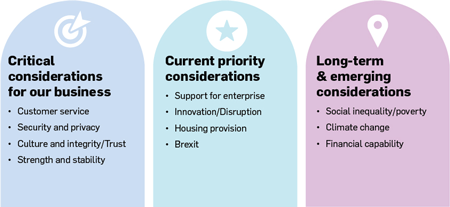 Key influences in our operating environment
As a business we need to constantly understand and adapt to key influences in our operating environment, as these carry both risks and opportunities for us. We identify these influences through a mix of direct engagement with stakeholders, market research, economic and consumer trend analysis.
This process is aligned with a broader and more detailed landscape review undertaken by RBS. For more information on the group's approach visit www.rbs.com/sustainability.html

Sustainability governance and performance measurement
Sustainability is central to all our decisions as a responsible business. Discussion of sustainability topics and decisions are addressed as part of our business as usual management and leadership meetings across the business. Progress and performance are reported and discussed at our Executive Committee and Board. We also align with the sustainability reporting framework in RBS, which is governed by the RBS Sustainable Banking Committee, a sub-committee of the RBS Board.
Each year RBS receives ratings for our environmental and social performance from a number of recognised external indices.
2014
2015
2016
2017
CDP*
RBS - Disclosure
98
99

A-

RBS - Performance
B
B
-A
Industry Av. - Disclosure
69
84
C
Industry Av. - Peformance
C
C
C
DJSI
RBS
82
80
84
80
Industry Average
60
61
61
64
FTSE4Good
Included
Included
Included
Included
* In 2016, the CDP scoring methodology was changed significantly, therefore we are unable to directly compare our 2016 and 2017 scores with our results in previous years.
Modern Slavery Standard
Ulster Bank Ireland DAC recognises its responsibility to respect and uphold human rights, and we welcome the provisions set out in Irish & European Modern Slavery Legislation – to combat slavery and human trafficking. This view is held across Ulster Bank Ireland DAC and its subsidiary companies. We are conscious of the people who lie at the heart of this legislation: the victims and potential victims of slavery and human trafficking.
We want to take a human rights approach to understand the impacts of our operations and supply chain on people, in order to eradicate and prevent any forms of slavery, and address any issues when they arise.
Our approach to address Modern Slavery at a bank level has been to consider all the potential impacts of our business and supply chains on people and identify where risks of modern slavery exist. Where we think risks may exist, we want to ensure our employees, our suppliers and our customers are aware of them and can address them.
This includes:
Reviewing our policy framework, to ensure it meets modern slavery requirements
Identifying and addressing high risks within our business and supply chain
Providing bespoke training and raising awareness
Read the RBS Annual Statement and approach to The Modern Slavery Act here.
Responsible Business Awards
Ulster Bank was one of the first companies in Ireland to be accredited with the Business Working Responsibly Mark in 2014, the highest level of sustainability accreditation in Ireland awarded by Business in the Community.
We continue to hold the Mark, which is independently audited by the National Standards Authority of Ireland and based on the ISO 26000.